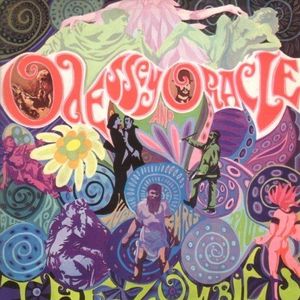 I haven't had a chance to get to the movies for a while so I thought I'd talk about an album instead. The album I'm thinking of is "Odessey and Oracle" by The Zombies. (Yes, I know it looks like I misspelled a word. I know odyssey is misspelled but I didn't do it. Lead singer Colin Blunstone: "I knew it was spelled wrong, but I thought it was spelled wrong on purpose. The cover was printed by an artist called Terry Quirk. We had a release date and the printing presses were ready to go with the artwork when suddenly he realized he'd spelled it wrong. Obviously, it wasn't done on the computer in the '60s; it was a painting. Rod Argent and Chris White decided to concoct a story about how it was done on purpose, a play on the word 'ode.' They decided they would even tell the other members of the band this so it would sound more authentic. So I believed it until two or three years ago when I was doing a radio interview with Rod and he said it was a mistake and they tried to cover it up. I thought, 'I don't believe you've kept that secret for about 37 years!' I thought it was really funny. Terry Quirk's a wonderful artist, but he's not a very good speller.") The Zombies biggest all time hit was from this album; "Time Of the Season," which has been played over a million times on U.S. radio. It's a great song but when I first bought the album, probably back in early 1969, I thought is was one of the weaker songs on the album.
The sad story behind this album is that The Zombies really never became big enough to make a living with their music. Boy, do I understand that feeling. So they decided that for their swan song they would do the best album they could possibly do. They were the next band to go into EMI studios in England after The Beatles had spent seven months there recording Sgt. Pepper's Lonely Hearts Club Band. Unlike The Beatles, who basically had unlimited studio time because of their unbelievable success, The Zombies had and extremely limited budget. It was something is the area of about $4,000 (or maybe less); what did that mean? They had to rehearse like crazy before going into the studio and be prepared to basically record the major tracks live and do as much over-dubbing as they could. In fact when asked how he know when they had done enough over-dubbing he recently replied, "When the budget was all gone." I only mention this because of my own opinion of this album. So what's the sad part? Before the album was ever released The Zombies disbanded. A year and a half later "Time Of the Season" was released and raced to the top of the U.S. charts but The Zombies were no more so most of us never had the pleasure of seeing them perform.
For many years I've replied to people that "Odessey and Oracle" is one of my top ten favorite albums of all time. However, I have finally come to realize that I can't think of another album to put in front of this one; I guess that makes this my favorite album of all time, although, "The Selfish Giant" is right up there, too.
Many consider this one the the best psychedelic albums of all time, but since psychedelic means drug induced that excludes this album. The Zombies use to go down to the pub for the occasional ale but they did not take drugs. That's what they say and I believe it. This album is so beautiful and uplifting in it's spirit, I don't believe they could have done it if they were stoned. But don't get me wrong, this is not some sort of '60s bubble gum. This is rock music at it's best. Fantastic songs played by more than merely capable musicians with vocals rivaling that of The Beach Boys. Intricate, original arrangements, like nothing else in it's time or since, as far as I know. I guess I shouldn't call anything "best" but I can call it my favorite. From wonderfully satisfying tunes like, "Care Of Cell 44" (which Bongo and the Point performs in our live concerts), and "Friends of Mine" (which we have performed, too), to total rockers like, "Time Of the Season," and utterly unique vocal portraits like, "Changes," this album is in a class of it's own.
And now for the really good news. Since the turn of the millennium The Zombies are back. I've already gone really long here so I won't go into this story but I have seen The Zombies in person in the 21st century and have two DVDs of them performing live in recent years. So I highly recommend not only the classic album but the newest material from The Zombies. Here are some links, check them out.
Original album "
Odessey And Oracle
"
"
Odessey And Oracle (Revisited)
" - The 40th Anniversary Live Performance DVD
"
As Far As I Can See
" - Latest album from The Zombies
"
Some Years: It's the Time of Colin Blunstone
" - A good sampling of some of The Zombies' lead singer Colin Blunstone's solo work. (The voice of an angel. jp)
Also visit
The Zombies on MySpace
.