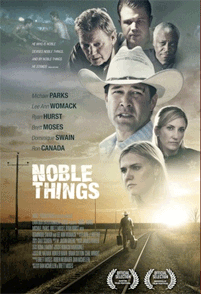 So when we were at the Hollywood Rose on Thursday, the manager, George Jones, suggested we come back on Friday night to see a film called, "
Noble Things
." He said that the producer, Ruben Neubuaer, and the writer/director/star Brett Moses would be there for the Texas Premier and he wanted to introduce us. So Bree and I went back Friday. (Dee couldn't, as she was judging a music contest in Winsboro Friday night.) Rueben and Brett are great guys and we had a nice talk with them.
Here again is a movie I would not have gone to see, most likely. I go to the movies to escape and have fun. This movie was a serious drama, (to serious for my usual viewing habits), with a poignant story about a young man attempting to become a country music star. Or so it seems at the beginning. It is really a story about life, death, and redemption and it just happens to involve a young man working to become a country music star. Brett Moses grew up in Beaumont, Texas, which is where you end up if you drive long enough south on Hwy. 69 out of Tyler. The movie takes place in East Texas and Jefferson County, Texas.
Jimmy Wayne Collins (Bret Moses) is the son of sheriff Pete Collins. As often happens, he and his older brother Kyle, (Ryan Hurst, "Remember the Titans," "Saving Private Ryan"), grow up to be the town hell-raisers. Two time Grammy winning country music star Lee Ann Womack, (originally form Jacksonville, Texas, about 25-30 miles south of Tyler, who has an amazing new song called, "There Is A God"), makes an impressive acting debut. (At least I was told this is her debut.) She becomes sheriff when Sheriff Collins becomes ill. On the night Jimmy gets his big break, his record deal, a series of events begin that lead to the eventual climax of the film which, as usual, you won't hear about from me. Kyle looks after his little brother, as a good big brother always will. And to add to the appeal of this movie it has some top notch music by some of today's top country artists.
The movie is emotionally moving and has one of the best underlying morals of any film I've seen in the theater in recent years. It is a bit gruesome during some fight scenes. It is rated "R" but Bree said sometimes a film will be rated one notch higher because of cigarette smoking, which this movie has. I guess that's because of kids. It's a shame because this might be just the film many teenagers
need
to see. The crowd at Hollywood Rose last Friday applauded at the end, which is also rare. They all appreciated it.
And so for this new film company, I wish them success and hope they do well enough to continue to pursue their dreams. This was amazing for what appears to have been a low budget film. I don't say that because it
looked
like a low-budget film, but because none of us could get the producer to tell us what the budget was. For their next film, "Riders of the Painted Desert," they hope to get a budget of between 10-20 million dollars. We should all be anxious to see what they can do with a half-way descent budget. In the meantime, I think "Noble Things" is one to see.

Jim